About Us

DAKSH INSTRUMENTS is one of the prominent ISO 9001:2015 certified manufacturers, exporters and suppliers of various types of Testing Machines. We manufacture and upgrade the test machines as per the customer requirement and specifications.

We are one of a kind industrial testing machine supplier in India that assures users of getting highly accurate and reliable results . Our product range comprises of namely Load Testing Machine for Manhole Cover (Automatic/ Manual), Transverse Bend Testing machine for Rail Joints, DV (Distributor Valve) Test Bench, Pull Out Testing Machine, Bearing Puller Data Recorder, Hydraulic Testing Pneumatic Machine and many more.

The various industries to which we cater are Railways, Foundry Industry, Oil Field Industry, Tool Manufacturing Industry, Research and Testing Industry, Civil Engineering Industry and so on.

Our products are designed and developed with complete safety at our unit using prime raw materials and advanced technologies. We are known for on-time delivery and after sales support at all times. Due to which we have a range of esteemed clients worldwide.

Our Core Values

Our company is tasting fame by following a large number of values, few of which are Professionalism, Credibility, Integrity, Honesty and Perseverance. Our experts follow these values to ensure company is walking on the right path to touch the high skies of glory.

Quality Checking Process & Assurance Strategy

We are known for warranting quality perfection in our range of industrial testing systems. We care for our clients investment, which is why we run a series of strict tests such as Pressure/Load/Torque Test, Ultrasonic Test, Hardness Test and many others to ensure all products match expected standards.

Application Areas/Target Sectors

Our offered machines and systems such as Mechanical Testing Machine, DV Test Bench and many other industrial products are acclaimed for their exceptional quality, accurate results, low maintenance cost and supreme functionality. It is the result of all these attributes that they are demanded in Civil, Railways, Oil, Construction, Foundry, Automotive, Aviation, Marine and numerous other industries.

Why Choose Us?
100% Customers Satisfaction: To raise customers comfort of dealing with us by providing them surety of our products longer serving.
24X7 Support To Customers: We have made customers our priority which is why we keep their needs in focus and answer to their queries well on time.
Professionals Service: Giving the best service to every customer is our motto, so we ensure reliable and authentic information related to our rates, delivery system and other policies is clearly provided.
Trusted Services: We render maintenance and testing services, after sales, for our industrial testing machines.
Product Range
Linear Potentiometer

Load Cell

Sensor

Testing Machines

Transverse Bend Load Testing Machine

Load Testing Machine for Manhole Covers

Spring Testing Machine For Coil Springs

Pneumatic Testing Machine

Fatigue Testing Machine

Hydraulic Pneumatic Testing Machine

Pull Out Testing Machine

Mechanical Testing Machine

Centralizer Testing Machine

Testing Workbench

Various Types of Testing Workbench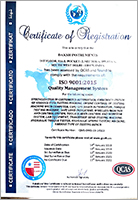 Read More